Profile

Free Account
Created on 2009-05-04 10:23:00 (#270770), last updated 2009-05-04 (437 weeks ago)
3,847 comments received, 0 comments posted
351 Journal Entries, 298 Tags, 0 Memories, 1 Icon

About

Mini Bio
A Little Bit About Me
I'm currently trying to find a path in life
Apparently, God, the universe and the Powers That Be don't set out road signs.

I'm 25, born and raised in Dublin. Yes, that's in Ireland.

I can no longer call myself a student; I've put myself through five years of college, and I tell you, I'm not doing any more. I've gotten a BA and MPhil out of it, new ways of thinking, a good education and friends, so I came out of it pretty well! Workwise, I'm paying my dues until I can get to where I want to go. Which, at the moment, I am unsure of. I have no immediate plans for the future, and I'm completely lost, but it'll work out - I'm young yet, right? RIGHT!?!?

I don't smoke, I drink occasionally, and I swear constantly. Not very lady like, but who wants to be a lady? SOCIAL CONSTRUCTS AND GENDER LABELLING IS WRONG KIDS LMFAO. I tend to over-exclamation point things (I've just gone through this and taken a gazillion stray !s out), and capslock on occasion. Apparently I'm more hyper online than in RL. I can be very honest - some call it blunt, but it's not me being rude. It's just I'm fairly straight forward, I just say what's on my mind. And I expect you guys to be the same if you comment or friend or whatever!

And please do friend, I love new friends - just comment somewhere and I'll friend back. Well, we have to have something in common like interests, fandoms or even friends or what will we talk about?!
My Obsessions Fandoms
I tried not to be obsessed with just one fandom, but I have a confession to make.

Hi, my name is Jen and I am a monofandomer.
Supernatural is my poison, Dean is my weakness.

Nah, I do like other things, and I find my obsessive interest in SPN waning, it must be said. I go through intense bouts of OMFG I LOVE THIS NOMNOMNOMNOM. I dabble in fandoms, mostly stalk and lurk in the shadows. Right now I love:
♥ Being Human: a great little series from the Beeb about a vampire, werewolf and ghost living together. Don't judge, it's awesome. Watch it and you'll see *nods* Mitchell is GORGEOUS (Irish, what can I say? WHY must we lose our hot men to other countries???), George is adorable and Annie is so sweet. LOVE.
♥ Watchmen: OMFG ysplzkthnx. Book and film. In both, I love Rorschach. In the film, I love the Comedian 'cause mmmmmmmmmmmmm JDM
♥ Twilight: Ohhhh yeah, you heard me right. I just love the absolute ridiculousness of books and film - bad writing, Mary Sue, big hair, pauses of HELL. I just, I...yeah, it's a sick sick habit I must break, but it's crack and I adore it.



About This Journal
So this journal is a general rambling of my life (most things are friends-locked), but expect to see plenty of Supernatural-related posts (fanfic stuff is usually open). So if you're a fellow SPN fan or a fan of anything else, or just wanna know me, friend away, then friend me, I'd love to expand my flist.

My friending welcome note type thing is here.
Leave a comment so I know what's what!
Credit
My layout is courtesy of

thefulcrum

I made my header, which I'm very proud of! It's my own take on an image seen around the SPN studio - on clapper boards and writers' room door for instance :D

Supernatural Mood Theme made by

lidi
Layout profile code thanks to ReversesCollide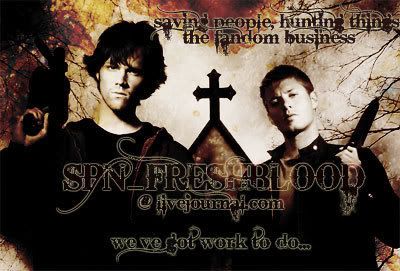 Banner and buttons by

titheniel for

spn_freshblood
Take, credit, and spread the news.

Connect
angel
,
bed
,
black books
,
bones
,
buffy
,
captain tightpants
,
chris kane
,
clive barker
,
coffee
,
damien rice
,
david boreanaz
,
david bowie
,
dean winchester
,
dexter
,
dogs
,
donnie darko
, dorty, dorty girls,
draco malfoy
,
drinking_to_bring_john_winchester_back
,
eternal sunshine
,
firefly
,
flying monkeys
,
foo fighters
,
freedom of speech
,
good omens
,
goonies
,
grey's anatomy
,
griffin & sabine
,
harry potter
,
heroes
,
horror books
,
horror movies
,
humphrey bogart
, inane lists,
j2
,
jared padalecki
,
jeffrey dean morgan
,
jensen ackles
,
joaquin phoenix
,
john cleese
,
john winchester
,
kane
,
kings of leon
,
lord of the rings
,
lost
,
making stuff
,
marilyn monroe
,
marshmallows
,
metallicar
,
michael palin
,
michael sowa
,
monty python
,
mullet rock
,
muse
, orlando bloom (elf), orlando bloom (human), outdoor music festivals, phil lynott,
pirates of the caribbean
, pretty men kissing,
prison break
,
procrastination
,
queens of the stoneage
,
reading
,
regina spektor
,
ringo starr
,
robert downey jr
,
salvador dali
,
sam winchester
, secret wall tattoos,
serenity
,
snow patrol
, spike milligan's poetry,
stephen king
, steve mc queen,
steve the pirate
,
strider
,
supernatural
,
the killers
,
thin lizzy
,
thundercats
,
tim burton
,
topher grace
, trains of thought,
trees
,
viggo mortensen
, vw campervans,
walk the line
,
wellies
,
wentworth miller

People
[View Entries]

[livejournal.com]
2sexyboys
,
abydosww
,
ames1010
,
andreas-ri
,
anteka
,
aoibhe
,
atlas-one
,
augustfading
,
awff7
,
carpedi7
,
charly2004
,
clex_monkie89
,
cloudy-daze
,
comiskey
,
damson
,
darkelfgrl
,
daydreamer1984
,
deanshot
,
dlgr
,
eilan
,
emony
,
ficbitch82
,
frances-veritas
,
godamnarmsrace
,
grammar-glamour
,
grimmy23
,
honeyfitz
,
iceandlime
,
io-2
,
ispahan
,
jamesie-boy
,
janglyjewels
,
jelloh0530
,
jenniebellie
,
jeyhawk-nano
,
jeyhawk
,
karmicunderpath
,
kessie
,
keyweegirlie
,
lila-blue-b
,
magser
,
maharetr
,
meivocis
,
milydo
,
missyjack
,
moondropz
,
moonilicious
,
mss-celestal
,
nereem
,
nickslesbo
,
niennah
,
notthequiettype
,
obeetaybee
,
odycee
,
ora-viva
,
pocketfullof
,
prettyfreckles
,
purplephoenix03
,
quincykat
,
randommagic
,
regala-electra
,
rv-icons
,
sacrament666
,
sage3
,
sarahofthedead
,
silent-chris
,
silverspirit-17
,
skeezerbeans1
,
slodwick
,
smeckles90
,
smidirini
,
softgraysky
,
spacedoodet
,
splashpink
,
spn-watcher
,
spritter
,
tanndell
,
tehjules
,
thelonejuliet
,
tinkabell007
,
titheniel
,
twisterfairy
,
unatral-kreatur
,
unhobbityhobbit
,
vanilla-tiger
,
wander-lust-79
,
x5vale

[users.livejournal.com]
_sin_attract

Communities
[View entries]

Feeds
[View Entries]

Subscriptions (0)

Linking
To link to this user, copy this code:
On Dreamwidth:
Elsewhere: